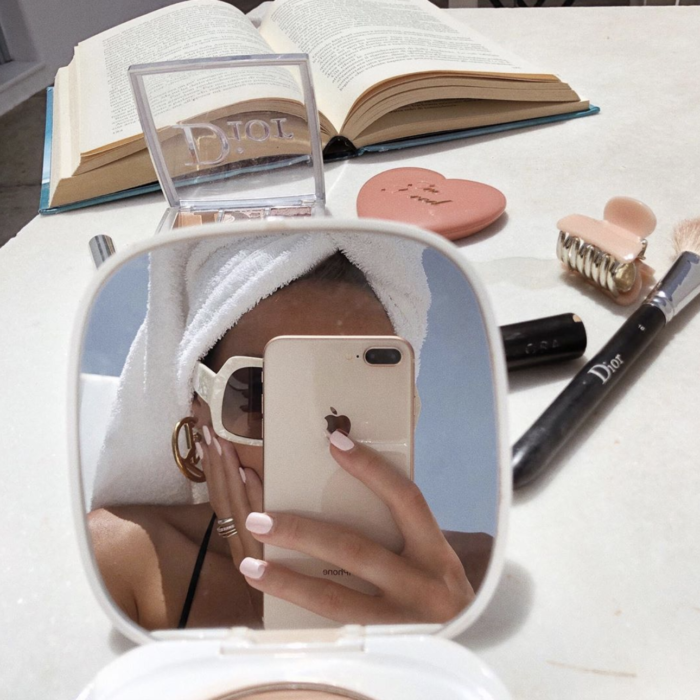 August is finally here and with it, come our favorite beauty products. At Be Social, we're constantly experimenting with our looks and exploring what products works for us. Here are some of our August beauty picks, as shared by our team. Whether you're still soaking up the last few days of summer or prepping your #lewks for autumn, you're bound to find something you love.
Here are our August 2019 Beauty Picks:
Jess: Glossier's Haloscope IS. MY. JAM. When I'm feeling tired, need a boost, dry skin, all of the above, Haloscope is the perfect "dewy" shine synonymous with Glossier's signature "no makeup makeup look."
Sara: I am obsessed with Fenty Beauty's contour stick. It's so easy to blend and it makes all of my contour lines look natural without feeling super heavy on my skin.
Desiree: I can't live without Hyaluronic Acid particularly in the dry LA climate. I try a few different ones, but my favorite is Caudalie's Vinosource SOS Thirst Quenching Serum. It smells nice and absorbs quickly.

Lizzie: I've been fighting Keratosis Pilaris for years; bumps on the backs of my arms and thighs. I would not survive without the

Crystal Peel Exfoliating

bar – it sloughs off dead skin cells and after a few uses in the shower your skin is smooth, even and free of any irritation or bumps!

Tera: I have used Olay Complete All Day Moisturizer for over 20 years! It's the only moisturizing product I trust my sensitive skin to, and it keeps me breakout free. As much as I love the thought of exploring new products, Olay and I go WAY back and I am not willing to give it up! 


Sarah: Kopari's Coconut Deodorant is my every day essential! I am allergic to most store brand deodorants and other hypoallergenic options aren't as long lasting and don't smell nearly as nice (or tropical) as Kopari. It's also vegan, cruelty free, gluten-free, so I feel good about what's going onto my very sensitive skin.
Chrissy: I swear by True Botanicals Renew Pure Radiance Oil & Nutrient Face Mist. After washing my face before bed, I lather my face with the oil and spray the face mist. I wake up glowing — my skin feels moisturized, smooth and so much softer. It also smells like you're sleeping in a spa. It is pretty expensive, but the results make it worth it!
Photo by @emmalerger on Instagram.