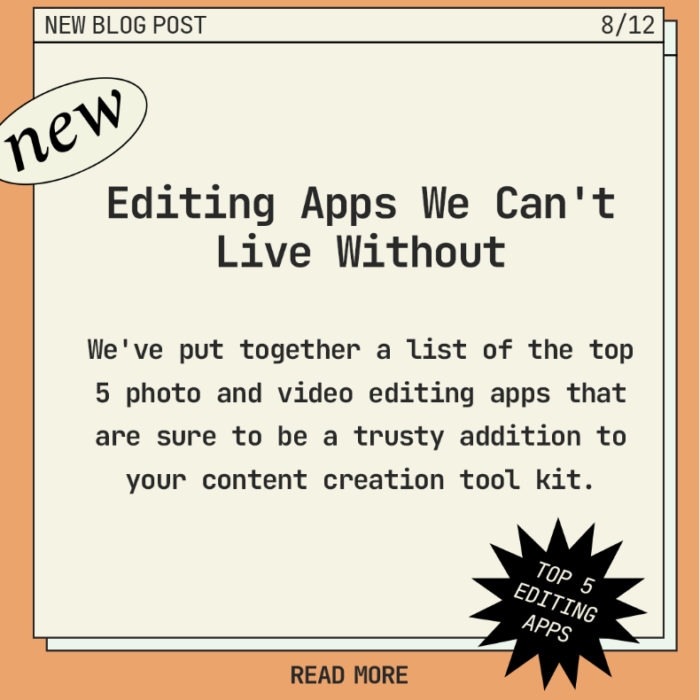 It's no surprise that content creation can feel like a full time job. With new apps offering editing techniques, templates, filters and effects, being served to us on the daily it seems impossible to keep up with the latest editing trends. Don't worry, we're here to help. We've put together a list of the top 5 photo and video editing apps that we cannot live without. No matter what content you're creating and for which platform, these apps are sure to be a trusty addition to your content creation tool kit.
Splice – We like splice because it is the easiest for stitching videos together and adjusting the speed of your videos. You can also add music, text, and video graphic effects to all of your projects. It is the perfect one stop shop editing app for all of your video needs.
Canva – Like Adobe Creative Suites Little Sister, Canva is a great quick fix for all of your design needs. Need to create a cover photo for your latest IG Reel series or want to design a new video template Canva is there to help.
AdobeLightroom – If you don't already use Lightroom, here is your sign to start. Lightroom will take all of your pictures to the next level. Whether your shooting on a camera or your iPhone Lightroom will make all of your content look like it came from a professional production with a full editing team.
VSCO – VSCO is not new to the editing game, it's an app that has been around for a few years and that's for good reason. VSCO is in our opinion one of the easiest and quickest photo and video editing apps. With hundreds of filters and effects to choose from it can help you achieve whatever editing style you are looking for.
InShot – With inshot you can easily trim your clips, change the speed of your footage and add filters. You can also rotate footage which is great for IG stories and reels.