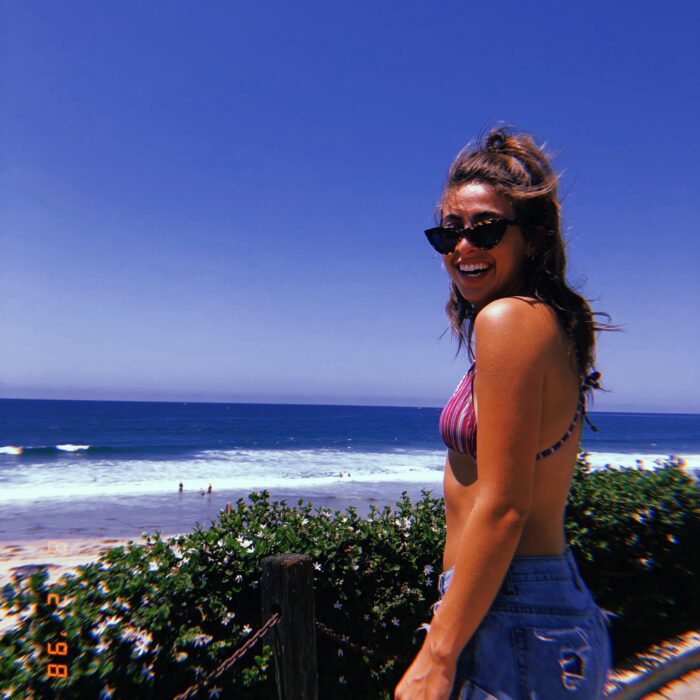 First and foremost, tell us a bit about you!
Hi! My name is Sarah Lincoln, but most people call me Slinks… and you can too! I'm from Washington, D.C., and went to college at Miami of Ohio to play ice hockey. I moved to LA right after graduating and now live in Manhattan Beach with my 5 best guy friends and my pup, Deuce. It's a wild time but makes life in quarantine a lot more fun 🙂
How long have you been at BSG?
1.5 amazing years! But sadly more time working out of the office than in it :/ I miss all my BSG sistas!
What do you do in your role?
I'm a Senior Influencer Coordinator and lead the organic influencer relations for our brand clients!
What's the best part about BSG?
I love that we are a multi-faceted agency that represents both talent and brands, in both the editorial and influencer scopes.  I'm always inspired by all that we have going on at BSG, between the FOLLOW ME Podcast, BrandEdit product kits, and all the exciting campaigns for both talent and brands! And of course, all of the incredible women that I work with who drive me to be successful and have fun in everything that I do!
Favorite LA spots?
I'm lucky enough to live right by the beach, so that's easily my favorite place to be! I also love all the local restaurants in the Manhattan Beach and South Bay area, and am more than happy to support those during COVID 🙂
You mentioned earlier that you're an avid XYZ, who's your favorite XYZ?
Being a hockey player, I am a huge NHL fan and absolutely love supporting my hometown Washington Capitals. I'm a big sports fan in general though, and will always stay loyal to my DC teams!
Lastly, what's a quote you live by?
My dad used to kiss me and my brothers goodbye every morning before heading to work and tell us "every day's a Super Bowl." In other words, do your best and be your best every day 🙂